–
–
L'esordio di Maila Nurmi Vampira
Maila Elizabeth Syrjäniemi, conosciuta come Maila Nurmi, in arte Vampira, nasce a Petsamo in Finlandia 11 dicembre 1922. Suo padre è un ex-attore e modello per riviste maschili soft-core, la madre una ballerina di burlesque. La famiglia emigra negli Stati Uniti nel 1924 nella cittadina di Ashtabula dove risiede la più numerosa comunità finlandese dell'Ohio. Nel 1939 si trasferiscono nell'Oregon. Tuttavia, secondo Dana Gould, che afferma di aver visto il suo certificato di nascita, è nata in realtà a Gloucester, Massachusetts. Maila si diploma al liceo di Astoria e decide di fuggire a soli diciassette anni a Los Angeles nella speranza di divenire un'attrice holliwoodiana adottando come cognome quello dello zio Paavo Nurmi, campione olimpionico di atletica nel 1921. La vita è complessa, prende a lavorare come spogliarellista, danzatrice esotica e pin-up per l'illustratore peruviano Alberto Vargas, per il fotografo glamour Bruno Bernard (Bernardo of Hollywood) e per il regista, fotografo, pittore Man Ray. Ottiene un ruolo non accreditato nel film If Winter Comes di Victor Saville.
Nel 1944 è finalmente scritturata a Broadway per interpretare due opere teatrali di Mike Todd Catherine Was Great e Spook Scandals. La prima debutta il 2 agosto del 1944 e Maila viene allontanata a breve dalla protagonista Mae West per gelosie e dissapori. In Spook Scandals, dalla tematica horror, la Nurmi ha l'occasione idonea per farsi notare: è una vampira, giace in una bara, sviene, grida, aggirandosi sensualmente fra le lapidi di un cimitero. Mike Todd anela rendere Maila, la novella bellezza finlandese, la nuova Lauren Bacall. Il regista Howard Hawks la nota e la trascina a Los Angeles per realizzare l'adattamento cinematografico del romanzo horror Dreadful Hollow. Il film non viene realizzato.
Nel 1947 ottiene un piccolo ruolo non accreditato nel film Peccatori senza peccato con Deborah Kerr. Lavora come showgirl per la Carrol Earl Theatre e come ballerina di fila al Florentine Gardens con la nota spogliarellista Lili St.Cyr. Per guadagnarsi da vivere nel 1950 è una guardarobiera al Sunset Strip di Hollywood e posa come pin up per riviste maschili Famous Models, Gala e Glamorous Models. Nello stesso anno diventa amica di James Dean, trascorrono giornate insieme presso il Googie's coffe shop all'angolo di Crescent Heights e Sunset Boulevard a Hollywood. Maila discerne sulla loro intesa affermando che detengono le medesime nevrosi. In un intervista l'attrice Shelly Winters racconta un episodio in cui Dean interrompe una discussione con i registi Nicholas Ray e Winters per poter guardare in TV The Vampira Show. James rivela, durante un'intervista che, agli albori della loro amicizia, era convinto che Maila fosse una fattucchiera.
Nasce Vampira
Il personaggio di Vampira nasce nel 1953, Maila partecipa all'annuale Bal Caribe Masquerade del coreografo Lester Horton indossando un costume ispirato a Morticia Addams, un personaggio dei fumetti di Charles Addams. Vince il primo premio battendo 2.000 partecipanti. La sua pelle diafana contrasta sensualmente con lo stretto tubino nero, cattura l'attenzione del produttore televisivo Hunt Stromberg Jr., che vuole assumerla per presentare una rassegna di film horror sulla rete televisiva KABC-TV di Los Angeles. Riesce ad ottenere il suo numero di telefono dallo stilista austriaco Rudi Gernreich, inventore del monokini. Il nome Vampira è  inventato dal marito della Nurmi Dean Riesner che ha sposato nel 1949. Dean ex bambino prodigio del cinema muto è uno sceneggiatore di film per il cinema e la televisione, ha vinto l'oscar per la regia nel 1948 per Bill and Coo. L'aspetto caratterizzante del personaggio Vampira è siglato dalla stessa Maila che è influenzata da numerose icone: Dragon Lady del fumetto Terry and the Pirates, Grimilde della Disney in Biancaneve e i sette nani, Morticia Addams, Theda Bara la prima Vamp del cinema muto, Marlene Dietrich,  mistress di Bizzarre rivista dedicata al BDSM.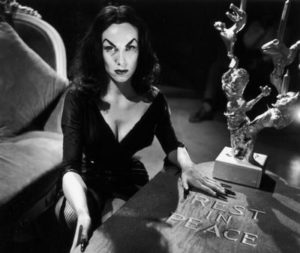 Il 30 aprile 1954 sulla rete ABC di Los Angeles affiliata alla KABC-TV va in onda in anteprima Dig Me Later Vampira, la notte seguente il 1 maggio 1954 debutta nello spettacolo di intrattenimento The Vampira Show. Per le prime quattro settimane lo show va in onda a mezzanotte trasferendosi alle 23.00 il 29 maggio. Il 5 marzo del 1955 la serie va in onda alle 10.30 pm. Ogni spettacolo si apre con Vampira, avvolta in un tubino nero, delineante le misure divine 96-43-96, unghie da Nosferatu, che scivola sinuosa lungo un corridoio tenebroso intriso di ragnatele, lievemente illuminato da candelabri, inondata di nebbia simulata con ghiaccio secco. Nella conclusione del gotico breve cammino sonnambulo la cinepresa indugia sul volto che infrange gli astanti con un grido lacerante, sorridendo poi timidamente. Urlare la rilassa. "Buonasera. Io sono Vampira, spero che voi siate stati tanto fortunati da aver passato una settimana orribile", congedandosi con "Fate brutti sogni, cari", in una terrificante risata isterica. Sdraiata a piedi nudi su un divano, in stile vittoriano decorato con teschi, introduce il film horror  anni 30-40 della serata.
I film che Vampira presenta hanno titoli come White Zombie oppure L'isola della nebbia. Il primo (del 1932) ha l'onore di essere stato l'antesignano dei film a tematica zombi ed è il primo film interpretato dal grande Bela Lugosi dopo il successo di Dracula del 1931. Secondo molti critici il ritratto che Vampira concede del Dr. Legrende, il creatore di schiavi-zombi ad Haiti, rappresenta una delle sue migliori interpretazioni. Il secondo regala come attori principali George Zucco e Lionel Atwill.
Vi sono alcune varianti nelle sue presentazioni: talora, munita di candela, si sofferma nella ricerca dell'animaletto domestico Rolo, un ragno, talvolta parla con fantasmi fuori inquadratura, occasionalmente sorseggia un cocktail velenoso, in altre circostanze presenta l'ospedale per aspiranti suicidi detto la Croce Rossa. Nello spettacolo dalla tematica horror include e padroneggia con giochi di parole macabri, rilasciando "epitaffi non autografi". Il tema musicale dello show è l'adagio Music for Strings Percussion and Celesta di Bela Bartok. Lo stipendio della Nurmi è di $ 75 a settimana.
Il successo è immediato e Vampira appare in una scenetta horror su The Red Skelton Show con Bela Lugosi, Peter Lorre e Lon Chaney Jr.. Life le dedica uno speciale fotografico di 4 pagine. Nel 1954 viene nominata per un Emmy Award come "Maggiore personalità femminile" dall'Accademia delle Scienze e delle Arti Televisive degli Stati Uniti. La figura singolare di Vampira dall'innaturale giro-vita che tocca i 42 centimetri è ottenuto spalmandosi crema cosmetica mista a polvere di papaya per ammorbidire la pelle. Proclama di mantenere la sua figura spettrale, seguendo una dieta a base di uova sode, cracker di farina integrale e succo d'arancia. Maila ha inglobato Vampira, passeggia per Los Angeles avvinta, immersa, nel ritratto lugubre con un ombrello per proteggersi dal sole. Ama ripetere che se c'è bel tempo lei spera in un tremendo temporale. Frequenta le feste esclusive in voga, diventa amica di numerosi attori fra cui Marlon Brando.
Nel 1955 il suo programma viene improvvisamente cancellato dal palinsesto dopo soli otto mesi. Alcune voci rilanciano che lo spettacolo è censurato a causa delle lamentele dei genitori, la tacciano di divulgare e promuovere la stregoneria soprattutto a seguito di una battuta: My sister was lynched for raping a snake.
Taluni riportano che la dirigenza della rete considerasse Vampira un personaggio troppo potente, provocatoriamente antitetico allo stereotipo della casalinga anni '50, remissiva, dipendente dal marito, agghindata in completi pastello, immersa in impasti per torte. Vampira è disinibita, indipendente, proviene da un altro mondo. Bisessuale, stravagante, gotica, tenebrosa, in un mondo moralista, bigotto, esposto alla luce della gioia preconfezionata, ipocrita.
Il confine fra persona e personaggio non esiste.
La KABC TV crea Voluptua sensuale e bionda dea impersonata da Gloria Pall atta a presentare una rassegna di film romantici. La Nurmi mantiene i diritti del personaggio Vampira e trasla lo show in un'emittente televisiva concorrente di Los Angeles la KHJ-TV. Molti spezzoni e scene ove Vampira ricrea alcuni dei suoi sketch sono in possesso di collezionisti privati. Altre clip girate col cinemascope sono inclusi nei documentari American Scary  e Vampira: The Movie. The Vampira Show è trasmesso in diretta e non registrato per una futura messa in onda successiva, tre minuti dell'episodio del 14 agosto 1954, usato dalla KABC come promo, vengono ritrovati molti anni dopo e restaurati.
Episodi realizzati:
4/30/54—Dig Me Later Vampira (preview show)
5/1/54—Charge is Murder
5/8/54—The Face of Marble
5/15/54—Revenge of the Zombies
5/22/54—Fog Island
5/29/54—Corridor of Mirrors
6/5/54—unknown
6/12/54—Devil Bat's Daughter
6/19/54—The Flying Serpent
6/26/54—The Mask of Dijon
7/3/54—Strange Mr. Gregory
7/10/54—The Man With Two Lives
7/17/54—Corridor of Mirrors
7/24/54—Fear
7/31/54—Rogue's Tavern
8/7/54—Dangerous Intruder
8/14/54—Mystery of the 13th Guest
8/21/54—Midnight Limited
8/28/54—Bluebeard
9/4/54—Missing Lady
9/11/54—Murder By Invitation
9/18/54—Red Dragon
9/25/54—Missing Heiress
10/2/54—Missing Corpse
10/9/54—Fatal Hour
10/16/54—Phantom Killer
10/23/54—The Shadow Returns
10/30/54—King of the Zombies
11/6/54—Doomed to Die
11/13/54—House of Mystery
11/20/54—My Brother's Keeper
11/27/54—Dear Murderer
12/4/54—Castles of Doom
12/11/54—The Charge is Murder
12/18/54—Return of the Ape
12/25/54—Man With the Gray Glove
1/1/55—Apology for Murder
1/8/55—Decoy
1/15/55—Murder is My Business
1/22/55—Phantom of 42nd Street
1/29/55—Case of the Guardian Angel
2/5/55—Lady Chaser
2/12/55—Killer at Large
2/19/55—She Shall Have Murder
2/26/55—The Lady Confesses
3/5/55—Larceny in Her Heart
3/12/55—Glass Alibi
3/19/55—Detour
3/26/55—Strangler of the Swamp
4/2/55—Woman Who Came Back

La vita dopo The Vampira Show e l'incontro con Ed Wood
Il 20 giugno del 1955 viene sequestrata per quattro ore nel suo appartamento da uno psicopatico che intende ucciderla. Aiutata dal proprietario di un negozio vicino, dopo numerosi tentativi, riesce a chiamare la polizia. James Dean muore in un incidente stradale il 30 settembre dello stesso anno, la stampa prende a speculare malignamente sulle frequentazioni dell'attore con Maila, imputandole nefaste influenze sul tragico destino. Designata come amante respinta, insinuano, una sua maledizione mortale. Diviene un'icona necrofila, detrattori per anni continuano a lasciare animali decapitati sotto casa. Dopo la morte del giovane attore la Nurmi afferma, in diverse occasioni, di essere in contatto con lo spirito di James e scrive  cinque pagine per la rivista Bordelaine intitolate The Ghost of James Dean.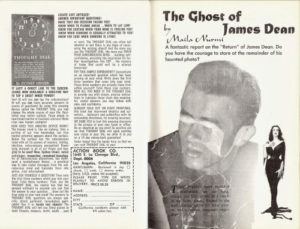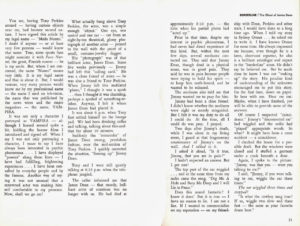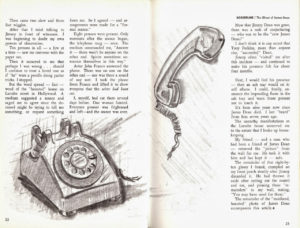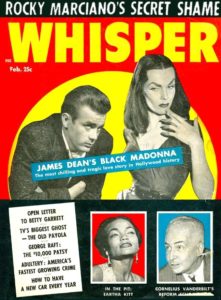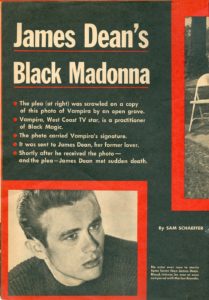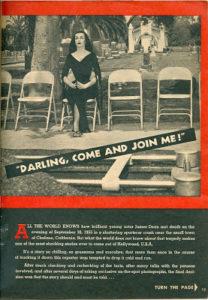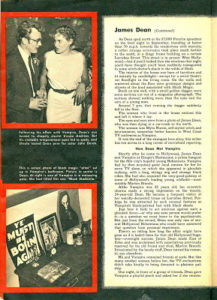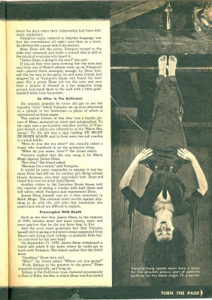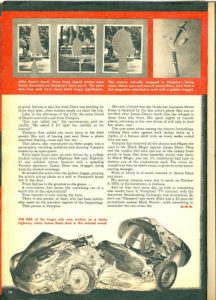 Nel 1956 Maila Nurmi Vampira si è separata dal marito e vive con il sussidio di disoccupazione di soli tredici dollari settimanali. Il collaboratore di Ed Wood la contatta per partecipare al film Plan 9 from Outer Space. Trova il copione talmente banale da accettare la parte assegnatali solo se recitata in silenzio, condizione tranquillamente accettata da Ed. Partecipa a dieci minuti di girato. La paga di duecento dollari è la motivazione per cui acconsente all'ingaggio. Plan 9 from Outer Space è un film horror fantascientifico proiettato in anteprima nel 1957 col titolo Grave Robbers From Outer Space ed è considerato il film più famoso del regista, completamente ignorato dalla critica fino al 1978. Viste le tante difficoltà sorte durante la lavorazione, Maila non avrebbe potuto immagine quel futuro da cult-movie. Il primo irrisolvibile problema è nato dalla morte di Bela Lugosi. Le uniche riprese dell'attore sono un filmino casalingo realizzato nel portico di casa. Tutto il film è creato attorno a questo scarno e improbabile girato usando un attore sostituto estremamente poco convincente nella parte di Lugosi: Tom Mason chiropratico della moglie di Ed, per niente somigliante all'attore. La trama vede degli alieni che decidono di resuscitare i morti per conquistare la terra, Vampira interpreta la parte della moglie morta di Lugosi che resuscita come zombie e si concede al loro servizio.
Il 10 marzo del 1958 sposa il suo secondo marito, il giovane attore John Brinkley.
Bobby Bare nel 1958 registra Vampira ispirandosi alla dark lady.
Dopo Plan 9 girò altri tre film di Albert Zugsmith, The Beat Generation (1959), The Big Operator (1959) gangster-movie con Mickey Rooney e Sex Kittens go to College (1960) titolato per la TV Beauty and the robot seguito di High school Confidential e di College Confidential. In tutti e tre compariva anche Jackie Coogan, il protagonista de Il Monello di Charlie Chaplin divenuto famoso in seguito per aver impersonato Zio Fester nella serie televisiva La Famiglia Addams. I primi due film condividevano anche altri membri del cast, come Ray Danton e Mamie Van Doren, acerrima rivale di Maila.
Il suo ultimo film è del 1962 The Magic Sword, un fantasy prodotto e diretto da Bert I. Gordon, Maila appare irriconoscibile, solamente le caratteristiche unghie vampiriche tendono a identificarla. Gli altri attori sono Anne Helm, Gary Lockwood, Basil Rathbone, Richard Kiel e Angelo Rositto. Il film è considerato uno dei lavori migliori di Gordon.
Il 20 giugno 1961 sposa a Orange County, l'attore Fabrizio Mioni, apre una boutique su Melrose Avenue, Vampira's Attic, vende gioielli fatti a mano e vestiti, medio antiquariato. Realizza oggetti d'arte per diverse celebrità, tra cui Grace Slick dei Jefferson Airplane e Frank Zappa. Negli anni 60 e 70 Maila sostiene un periodo indubbiamente difficile. Il suo momento di gloria è stato tanto fulmineo da retrocederla istantaneamente alle retrovie. Prende a pulire le case di celebrità per 99 centesimi l'ora posando all'occorrenza linoleum. Nel periodo natalizio del 1956 riporta ustioni di primo grado alle braccia e alle mani a causa di un incendio divampato nel suo appartamento. Dichiara ai giornalisti che il miagolare del suo gatto Ratface l'ha salvata, posando bendata, spiritata, con il micio in braccio. Le cronache si occupano della sua vita per un ulteriore incidente legato al fuoco: deve radersi la testa per essersi ustionata in un salone di bellezza.
Nel 1975 appare sullo schermo nel ruolo di se stessa  in James Dean: The First American Teenager.
Nel 1979 i pionieri del punk londinese i The Damned rendono omaggio a Vampira con il brano Plan Channel 7 nel loro album Machine Gun Etiquette.
Nel 1980 Harry e Michael Medved per primi proclamano Plan 9 come "il peggior film della storia del cinema" facendoli acquisire notorietà, riesumando sull'altare della gloria il personaggio di Vampira.
Nell'aprile 1981 Maila esce dal suo ritiro per comparire in un cortometraggio dal titolo Bungalow Invader, in cui, ovviamente, appare agghindata da Vampira. Partecipa a questo lavoro per la stretta amicizia che la lega con il proprietario del locale in cui il film è girato, John Deaven. Ha le stesse iniziali di James Dean e per lei è un buon presagio.
Quel pasticciaccio brutto di Elvira
Nello stesso anno la KHJ-TV le chiede una collaborazione per resuscitare The Vampira Show. La Nurmi accetta abbandonando subitamente il progetto per divergenze con i produttori. La scelta dell'attrice Cassandra Peterson e il suo personaggio Elvira è la motivazione principale di tale contraddittorio: i connotati similari a Vampira si risolvevano in una visione burlesca osteggiata alacremente dalla  Nurmi la quale, peraltro, non è interpellata in merito a tale scelta. Lo spettacolo battezzato Elvira's Movie Macabre diede avvio ad una disputa legale per i diritti d'immagine. Le istanze della Nurmi alla fine non trovano accoglimento.
---
District Court, C.D. California

Nurmi v. Peterson

No. CV 88-5436-WMB
Decided March 31, 1989


TRADEMARKS AND UNFAIR TRADE PRACTICES

Unfair competition — State statutes and common law (§395.03)

Plaintiff who created and performed character named "Vampira" and who alleges that defendants, in creating character "Elvira," used certain props, clothes, and mannerisms similar but not identical to "Vampira" character has failed to state cause of action under California Civil Code Section 3344, which prohibits unauthorized use of another's "likeness," since "likeness" means actual representation of another person's appearance, and not simply close resemblance, nor do such allegations give right to cause of action for violation of common law right to publicity.

2. Infringement; conflicts between marks —
Passing off; state law trademark infringement — Lanham Act Section 43(a) (§335.0703)

REMEDIES

Monetary — Damages — Trademarks (§510.0508)

Punitive damages are not appropriate in claims under Lanham Act Section 43(a), 15 USC 1125(a).

——————–

Action by Maila Nurmi against Cassandra Peterson, et al., for violation of the Lanham Act, as well as for state law claims alleging unfair competition and violation of rights of privacy and publicity. On defendants' motion to dismiss plaintiff's claims for unfair competition and for violation of rights of publicity and privacy, to strike plaintiff's request for punitive damages under Lanham Act, and for sanctions. Motions to dismiss and to strike granted; motion for sanctions denied.

Jan Goodman, Venice, Calif.; Mandel & Manpearl, by Stuart Mandel, Beverly Hills, Calif., for plaintiff.

Loeb & Loeb, by David A. Gerber and Kathleen O. Peterson, Los Angeles, Calif., for defendants.

Byrne, J.

I. BACKGROUND

The plaintiff is a former 1950's television movie hostess who created and performed a character called Vampira. The defendants are Cassandra Peterson, an actress who currently plays a horror movie hostess called Elvira and Elvira's affiliated marketing, broadcasting and management firms.

The plaintiff alleges that she had developed a character in the 1950s consisting of a distinctive dark dress, certain horror movie props, and a special personality. She contends that the defendants contacted plaintiff in 1981 to seek to recreate her character for contemporary audiences. After negotiations between the parties ended unsuccessfully, the defendants allegedly then created the character Elvira based upon plaintiff's previously developed character. The plaintiff alleges that she did not consent to the defendants' actions and that she received no compensation in connection with this appropriation. Subsequently, Elvira became a successful character on television and films which led to a number of merchandising spin-offs.

The plaintiff originally brought one federal claim based on §43(a) of the Lanham Act, 15 U.S.C. §1125(a) and state law claims alleging violations of Cal.Civ. Code §3344 (unfair competition) and the common law rights of privacy and publicity, common law unfair competition, and breach of contract. Plaintiff also seeks injunctive relief and an accounting.

The defendants bought a motion to dismiss on January 9, 1989 for lack of federal question jurisdiction. In a minute order on January 12, 1989, the Court dismissed the breach of contract claim and retained jurisdiction over the remaining claims.

The defendants now seek to dismiss the plaintiff's third, fourth and fifth claims under §3344 and for common law invasions of the rights of privacy and publicity. The defendants also move to strike the plaintiff's prayer for punitive damages under the Lanham Act, and for sanctions against the plaintiff for opposing the motion to strike.

II. DISCUSSION

The Court grants the defendants' motions to dismiss and to strike the claim for punitive damages under the Lanham Act. The motion for sanctions is denied.

1. The Motion to Dismiss1

The defendants seek dismissal of the §3344 and the common law right of publicity and privacy claims on the grounds that each of these causes of action only protects plaintiff from the appropriation of their physical likenesses. Plaintiff has not alleged that the defendants' character, Elvira, was created to look exactly like the plaintiff's character, Vampira. Rather, the plaintiff claims only that the defendants used certain props, clothes or mannerisms that were similar to those used by the Vampira character. Defendants argue that the use of another character's general characteristics, as opposed to specific facial features, photographs or other exact physical replicas, is not actionable under §3344 or the common law rights of publicity or privacy.

Under §3344(a), damages may be recovered from any person who knowingly uses another's name, voice, signature, photograph or likeness in any manner or for commercial purposes, without permission. The plaintiff argues that although her name, voice, signature or photograph were not appropriated by the defendants, her "likeness" was used when the defendants created a character that bore an approximate resemblance to Vampira. The defendants contend that the word "likeness" as contemplated by the statute means more than a resemblance but refers instead to an exact copy or portrait of a person. No case has directly construed the meaning of the word "likeness" under §3344 and the parties cite no controlling authority for their contentions.

[1] The Court finds that the defendants' construction of the word "likeness" in §3344 more faithfully reflects the intent of the statute. Cases which have considered claims arising under §3344 or in closely related right of privacy or publicity actions have implied that the term "likeness" means an actual representation of a person, rather than a close resemblance.

In Midler v. Ford Moter Co., 849 F.2d 460, 463 [7 USPQ2d 1398, 1400-01] (9th Cir. 1988), the Ninth Circuit found that the use of a voice that exactly duplicated the plaintiff's singing style was not actionable under §3344 since the plaintiff's actual voice was not employed. Consequently, although the plaintiff in Midler argued that the imitation of her voice was an approximation under the statute, the court held that no potential §3344 liability exists unless there has been an actual approximation of a plaintiff's physical characteristics.2Similarly, the plaintiff here has not alleged that Elvira exactly duplicated the plaintiff's physical qualities. Therefore, the Court finds that under the rationale of the Midler case, the plaintiff cannot maintain a §3344 action.

California cases have also employed the term "likeness" in contexts synonymous with an exact replication of a person's features. InLugosi v. Universal Pictures, 160 Cal.Rptr. 323, 329 [205 USPQ 1090, 1093-94] (Cal. 1979), the court discussed at length the descendibility of the right of publicity and concluded that a name or likeness unexploited in a person's lifetime did not create a descendible right for his heirs. In making this ruling, the court referred several times to the plaintiff's likeness in terms which were synonymous with actual appearance. Thus, the court observed that while a dracula character that unmistakably bore the plaintiff's features could be subject to a right of publicity action, a generic dracula, which might nevertheless resemble in many ways the plaintiff's character, would not. Id. at 325, 329 [205 USPQ at 1093-94, 1096]. Consequently, the word "likeness" has been employed by the California Supreme Court to mean an exact copy of another's features and not merely a suggestive resemblance.

The defendants' interpretation of the meaning of "likeness" as it appears in §3344 to mean an actual copy of another's features is also more natural in light of contemporary entertainment industry practices. Under the plaintiff's definition, if a person merely were to wear another's clothes or emulate another's mannerisms, an action would lie under §3344 because a "likeness" was being appropriated. However, such a definition would expand §3344 to freeze all rights to certain props, clothing, or other qualities surrounding a character with the first person to portray a given part. In effect, all subsequent actors would be subject to legal challenge on the grounds that they had copied elements of characters portrayed by earlier generations of actors. This result would greatly inhibit the development of the entertainment arts and the freedom of expression, a result the Court finds cannot have been intended by the California legislature in drafting §3344.

The plaintiff does not allege that the defendants created Elvira to look exactly like Vampira but rather asserts that defendants used some of the plaintiff's props, clothes, and mannerisms. Given these allegations, the Court finds that the defendants did not appropriate the plaintiff's name, voice, signature, photograph, or likeness. Thus, the plaintiff's second claim under §3344 is dismissed.

The plaintiff's third and fourth claims allege violations of the common law rights of publicity and privacy. The right of publicity is a specific variety of the general right of privacy. See, e.g., Lugosi, supra at 326 [205 USPQ at 1094]. Eastwood v. Superior Court, 198 Cal.Rptr. 342, 346 (Cal.App. 1983) (the right of publicity is the right to be free from the appropriation of one's name or likeness for another's commercial purposes and is one of the four forms of the common law right of privacy). The other forms of the right of privacy are the public disclosure of personal facts, false light publicity, and intrusion into the plaintiff's solitude. Lugosi, supra at 326 [205 USPQ at 1094].Eastwood, supra at 346. None of these are relevant in the instant case. Consequently, the plaintiff's fourth and fifth claims therefore resolve into an identical claim of a right of publicity violation.

To maintain a right of publicity claim, a plaintiff must show that his or her name or likeness was appropriated without consent. Eastwood, supra at 347. The plaintiff cites two cases, Midler, supra, and Chaplin v. Amador, 269 P. 544 (Cal.App. 1928) for the proposition that the imitation of a distinctive character is actionable under the right of publicity. However, in both of these cases, the courts permitted the plaintiffs to sue only for the defendants' fraudulent attempt to deceive the public into believing that the plaintiffs were actually present. In Midler, the court found that the plaintiff's voice was duplicated such that the public could be induced to think that she was actually performing in a car commercial. 849 F.2d at 463-64 [7 USPQ2d at 1401]. In Chaplin, an imitator attempted to defraud the series of films. 269 P. at 545-46.

Consequently, in both of the cases cited by the plaintiff, a suit was permitted to go forward only on the plaintiff's fraud claims and not on right of privacy or publicity grounds. Indeed, in Midler, as discussed above, the plaintiff was precluded from bringing a §3344 claim which is analogous to a common law right of publicity action. Thus, neither case supports the proposition that a person's use of a character that bears a mere resemblance to another is actionable under the common law right of publicity.

In this case, the plaintiff does not allege that the defendants actually tried to copy exactly the Vampira character in creating Elvira. By the plain terms of the complaint, the defendants are alleged to have created a new character that resembled the Vampira character but which used a different name and employed a different actress in the lead role. The Court finds that because these allegations do not amount to the claim that the plaintiff's actual features were used by the defendants for commercial purposes, no common law right of publicity or privacy action can be maintained. Thus, the plaintiff's fourth and fifth claims are dismissed.

2. The Motion to Strike the Punitive Damages Claims under the Lanham Act

The defendant also moves to strike the plaintiff's claim for punitive damages under the Lanham Act. In Getty Petroleum Corp. v. Bartco Petroleum Corp., 858 F.2d 102, 113 [8 USPQ2d 1336, 1343-44] (2nd Cir. 1988), the latest appellate decision on the issue, the court ruled that punitive damages are not authorized under the Lanham Act. No Ninth Circuit authority directly addresses the matter.

The plaintiff argues that Getty is not controlling in this Circuit and cites two cases that she claims authorizes punitive damages under the Lanham Act. Transgo, Inc. v. Ajac Transmission Parts Corp., 768 F.2d 1001, 1024-25 [227 USPQ 598, 610-11] (9th Cir. 1985) and Big O Tire Dealers v. Goodyear Tire and Rubber Co., 561 F.2d 1365, 1374-76 [195 USPQ 417, 424-26] (10th Cir. 1977). However, neither of these cases discusses the availability of punitive damages under the Lanham Act. Rather, in their relevant portions, they only address the propriety of punitive awards in light of applicable state law. See Transgo, supra (award of punitive damages under California law appropriate); Big O, supra, (award of punitive damages under Ohio law appropriate). These cases do not support the position that the Ninth Circuit departs from the majority rule that punitive damages are not appropriate in Lanham Act claims.

Thus, the defendants' motion to strike the plaintiff's claims for punitive damages under her Lanham Act claim is granted.

3. The Motion for Sanctions

The defendants move for sanctions against the plaintiff on the grounds that her opposition to the motion to strike was frivolous under Fed.R.Civ.P. 11. The Court finds that sanctions are not appropriate in this instance and the defendants' motion is denied.

III. CONCLUSION

The plaintiff's second, third and fourth claims under §3344 and the claims for common law right of privacy and publicity are dismissed.

The defendants' motion to strike the plaintiff's claim for punitive damages under the Lanham Act is granted.

The defendants' motion for sanctions is denied.

Defendants shall have 15 days to answer from the date of this Order.

——————–

1 The plaintiff contends that the defendants' motion to dismiss is improper since a motion to dismiss on jurisdictional grounds had previously been filed. The "seriatim" filing of dismissal motions, the plaintiff claims, should not be permitted. However, Fed.R.Civ.P. 12(h)(2) provides that a motion to dismiss for failure to state a claim, which is at issue in the instant motion, is not subject to the consolidation of defenses requirements of rule 12(g). Further, there is precedent in other districts for allowing a second, substantive motion to dismiss to be brought after a jurisdictional challenge is rejected.See, e.g., Steele v. Stephan, 633 F. Supp. 950, 951 (D. Kan. 1986);Thorn v. New York City Dept. of Social Services, 523 F.Supp. 1193 (S.D.N.Y. 1981). Thus, because the instant motion follows an initial jurisdictional challenge, and because motions to dismiss for failure to state a claim under Rule 12(b)(6) do not need to be consolidated with other dismissal motions, the Court finds that the plaintiff's objections are without merit.

2 The court further held that the term "likeness" referred to visual images and not voices, and on that ground disallowed the plaintiff's claim. Id. at 463 [7 USPQ2d at 1400-01]. Thus, the court did not directly address the meaning of the term "likeness." The court's decision, however, indicates that a visual image which was not an exact representation would not be actionable under §3344. The plaintiff in Midler was permitted to sue for fraud on other grounds. Id.at 463-64.
---
Vampira icona eterna
Nella serie animata Drak Pack andata in onda sulla CBS dal 1980 al 1982 prodotta da Hanna-Barbera's un personaggio è ispirato a Vampira sia nel nome sia nell'effige.
Nel 1982 il gruppo horror-punk The Misfits registrano un pezzo basato sul personaggio di Vampira che esce nell'LP Walk Among Us.
Nel 1986 Maila Nurmi appare al fianco di Tomata du Plenty del gruppo punk rock The Screamers, nel musical punk Population:1 di Rene Daalder, pubblicato in dvd nell'ottobre 2008.
Durante la festa di Halloween del 1987 Vampira ritorna in televisione, nello spettacolo Late Show della Fox TV. Rigorosamente vestita di nero, unghie nere aguzze, Rollo appollaiato sulla spalla, cappello nero con occhiali da sole stile anni '50. Durante lo spettacolo definisce Elvira come una "Judy Canova con le ragnatele".
Agli inizi degli anni '90 la fama leggendaria di Vampira ottiene un ulteriore spinta propulsiva, registrando un susseguirsi di articoli, interviste, approfondimenti. Un gruppo gothic rock americano, gli  Astrovamps  incidono nel 1993 un pezzo in suo onore. Nel 1994 Maila autorizza un Vampira model kit alla Artomics Creations e una figura pre-dipinta alla Bowen Designs nel 2001, entrambe scolpite da Thomas Kuntz.
Nel 1994 Nurmi collabora come consulente tecnico per il film Ed Wood di Tim Burton in cui è ricreata la lavorazione del film Plan 9 from Outer Space. La parte di Vampira è interpretata da Lisa Marie allora compagna del regista.
In 1995  Nurmi è intervistata per un documentario finlandese Vampira: About Sex, Death and Taxes. Nel 1998 appare nel film I Woke Up Early the Day I Died,  basato su un testo mai pubblicato di Ed Wood e non disponibile negli U.S.A.
Nel 2001, la Nurmi crea il sito official di Vampira, e inizia a vendere memorabilia autografati e sue creazioni artistiche su eBay.
Nel 2004 la Coffin Case viene autorizzata a vendere merchandise officiale di Vampira.
Nel documentario American Scary del 2006 troviamo un'intervista alla Nurmi.
Vampira ha autorizzato diversi merchandise inerenti al suo personaggio, nonostante il nome e l'aspetto siano stati utilizzati in modo non ufficiale da diverse compagnie dagli anni '50.
Muore il 10 gennaio 2008, per cause naturali, nella sua casa di Hollywood, all'età di 85 anni. La sua tomba si trova oggi nel Griffith Lawn dell'Hollywood Forever Cemetery.
Maila è una fiamma che arde consumandosi nell'eclettico anticonformismo di una maschera incomprensibile negli anni 50. L'horror cinematografico proposto nell'inusuale visione televisiva è sdoganato dall'ironia sagace, sensuale, grottesca, di una donna indipendente, moderna, catapultata in un contesto storico ove le donne chiedevano poco, oltre la famiglia, il focolare intonso, l'approvazione ipocrita della piccola società di quartiere. Lei è una suffragetta dell'etere, circoncide la telecamera dominandola con lo sguardo, con l' urlo mefistofelico, con l'immagine gotica, inquietante, dominante. Sono la padrona del mio regno, deviato, un ragno fluttua sulle mie spalle, le mie unghie sono artigli pericolosi, vesto in nero, sono l'apoteosi della Vamp indefessa nella propria indipendenza. Maila è Morticia dieci anni prima della comparsa sugli schermi televisivi nel 1964 della Famiglia Addams. L'assoluta originalità del personaggio Vampira secerne una gabbia inviolabile. Non l'abbandonerà mai. Nessuna occasione le è concessa, il programma stroncato nel nascere, Elvira squallida caricatura priva di eleganza si impone sulle sue ceneri, non oscurandola. Milioni di persone idolatrano Maila ancora oggi, avidi collezionisti cercano le registrazioni di The Vampira Show. L'ostinazione della Nurmi designa un destino inaspettato, l'immortalità delle proprie visioni televisive, modello ampiamente clonato nei decenni a venire, l'horror che si insinua in ogni piacevole rasserenante alcova domestica, resuscitando quel substrato ripugnante che alberga nell'ortodossia familiare. Vampira è l'emblema di un ruolo muliebre non accettabile, l'accento su se stessa, sulla bellezza intrisa di oscurità e lussuria perversa, destabilizza l'iconografia femminile improntata sulla sensualità esplicita, colorata, mollemente adagiata su corte gonne avvizzite negli orli. Dark lady prima di tutte, riesco a visualizzarla nell'affollato locale Batcave di Soho a Londra, cultura goth imberbe. Maila infonde modernità ancora oggi, in questa epoca livellata da modelli donneschi incancreniti in un soft porno indecente, ove occorre concedersi come copie di copie per sussistere.
Filmografia
If Winter Comes (Peccatori senza peccato) di V. Saville, 1947 (non accreditato).
Ship Passenger (Amore sotto coperta) di M. Curtiz, 1948 (non accreditato).
Too much, Too soon (Furia d'amare) di A. Napoleon, 1958 (non accreditato).
Plan 9 from Outer Space, di E. Wood, 1958.
The Beat Generation di C. F. Haas, 1959.
The Big Operator (Corruzione nella città) di C.F. Haas, 1959.
I Passed for White (La Negra bianca) di F.M. Wilcox, 1960 (non accreditato).
Sex Kittens go to College di A. Zugsmith, 1960.
The Magic Sword (La Spada magica) di B. I. Gordon, 1962.
Population:1 di R. Daalder, 1986 (non accreditato).
Dry (corto) di M. Ripatti, 1996.
I Woke Up Early the Day I Died di A. Iliopulos, 1998.